'The Dish' turns 50
CSIRO's Parkes radio telescope, a.k.a. 'The Dish', turns 50 on 31 October, and it celebrated in style with public Open Days on Saturday, 8 and Sunday, 9 October.
As always, the biggest drawcard was the chance to look through 'The Dish'.
But visitors also had the chance to:
View the sky with small telescopes
Hear astronomers talk about their work
Inspect a collection of vintage cars
Be entertained by a strolling 'Einstein'
Watch hot-air balloons rise from the observatory grounds
Sample the regular delights of the Visitors Centre, such as its 3D theatre, and a special historical display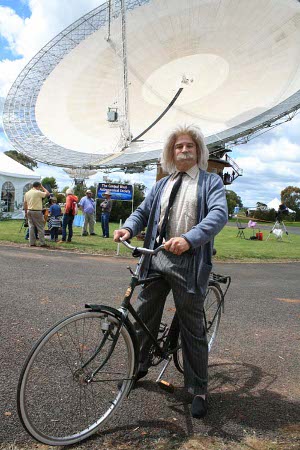 Even Einstein made an appearance at the Open weekend. Image Credit: J. Sarkissian.
Younger children enjoyed the jumping castle and a variety of hands-on activities, plus an 'astronaut' who zipped around on a Segway.
Two ABC local radio stations, Central West and Newcastle, broadcasted live from the observatory, for about six hours in total.
Chief Executive Megan Clark and Chief of Astronomy and Space Science Phil Diamond spoke at a short ceremony on the Saturday morning to formally mark the fiftieth anniversary. The chorus of 'Happy Birthday' that followed was punctuated by the firing of confetti 'cannons', which showered the crowd with colour.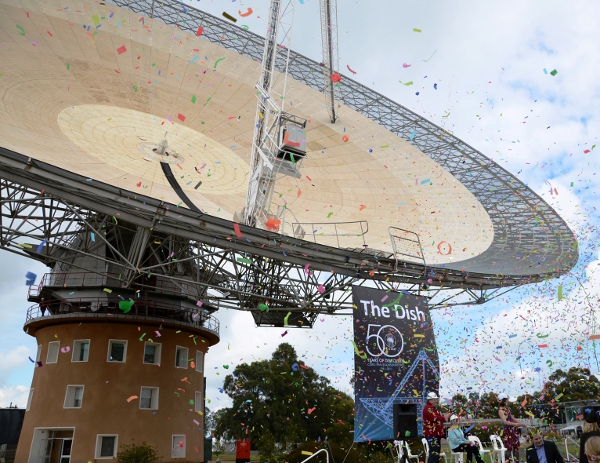 Image Credit: R. Hollow.
But the weekend's gala event was a fundraising concert held under the telescope on the Saturday evening. This was the brainchild of soprano Helen Barnett, one of the four soloists who performed along with the Macquarie Philharmonia orchestra. The guests of honour were the Governor-General, Her Excellency Quentin Bryce, and the US Consul General, Niels Marquardt, who read out a congratulatory letter from NASA. The evening ended with fireworks.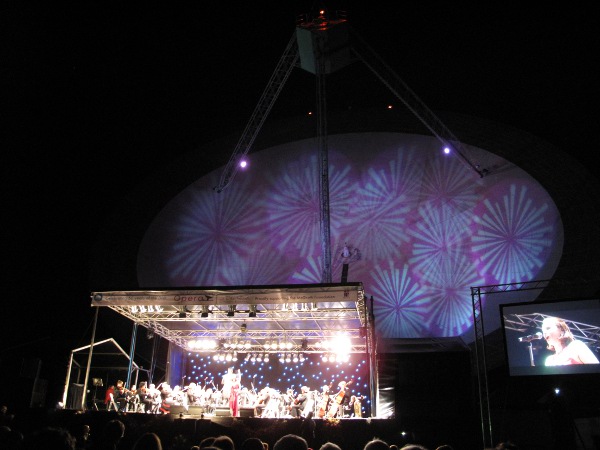 The Dish as a spectacular back drop to the fund raising concert. Image Credit: T. Crawshaw, CSIRO.
About 3000 people came to the observatory for the daytime events and over 2000 attended the concert. More than 90 volunteers, mainly CSIRO people and their families, made the Open Days run smoothly, while the concert was created by a team from the local community.
On 31 October, Parkes will mark its anniversary again with a science symposium held at the Observatory.
---
Email the Parkes Observatory Visitors Centre for more information.