Collisions with the Earth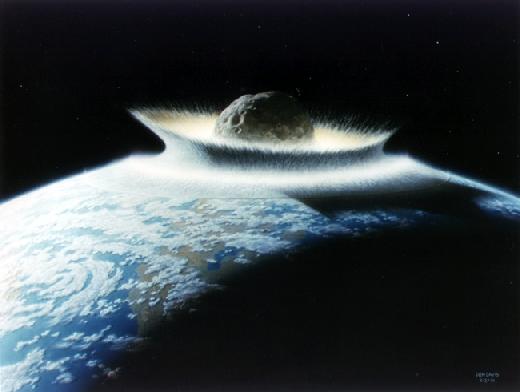 Artists impression of an asteroid impacting the Earth.

Photo: Don Davis/NASA
Meteorites:
Every day hundreds of thousands of meteors crash into the Earth. The vast majority are just a few millimetres in size. As they enter the atmosphere, they ionise the air around them, causing it to glow. We see them mainly at night when it is dark. The fragments are so small that they burn up at a height of about 100km. Often however, large fragments penetrate deeper into the atmosphere and reach terminal speed, resulting in them reaching the surface in tact. We call these meteorites. A very small, but real, possibility exists of someone losing their life over a meteorite impact.
Asteroids:
The Earth, and all the planets, were formed from the accretion of planetesimals (giant chunks of rock and metal). Today, the asteroids are all that remain of the planetesimals. Most of the asteroids lie between the orbits of Jupiter and Mars, but a few are found closer. Some of these, intersect the Earth's orbit and are known as Earth crossing asteroids. Their orbits are not entirely stable and can be disrupted by close passes of the planet Jupiter. It is entirely possible in the future, that the orbit of a relatively large Earth crossing asteroid, can be disrupted sufficiently by Jupiter's enormous gravity field, to send it on a collision course with Earth. A collision with such a large body can produce enough environmental damage to threaten all life on the Earth. Indeed, it is believed that a collision with an asteroid caused the extinction of the dinosaurs 65 million years ago. Another such collision in the near future, will be calamitous for mankind and end civilisation as we know it.
Closeup view of the surface of the Earth Crossing asteroid, EROS.
NEAR Spacecraft flyover movies of the Earth Crossing asteroid, EROS.
Movie #1
Movie #2
Movie #3

NEAR Spacecraft flyby of the asteroid Mathilde (encountered on its way to EROS).
Comets:
In addition to asteroids, collisions by comets are just as likely. Comets are thought to originate in a region of space just outside our Solar System called the Oort Cloud. Comets are erratic and unpredictable. If a comet were on a collision course with the Earth, we would have little warning of it and insufficient time to take preventative action. In 1994, the comet Shoemaker-Levy 9 collided with the planet Jupiter. The impact effects spread over an area more than four times that of the Earth, and validated various theoretical impact models.
Damage Estimates:
It is estimated that a catastrophic impact will occur about once every 100,000 years. An average Australian has a greater probability of dying as a result of such an asteroid or comet impact than from a plane accident.
Damage Estimates from Impacts of Various Sized Bodies
| | | |
| --- | --- | --- |
| Size | Damage | Detailed Damage Description |
| 1 cm | No Damage | Typical bright "shooting star". Most "burn up" at over 70km altitude. |