THE DISH
Starring: Sam Neill
Genre: Comedy
Running Time: 104 mins
Censorship:
Released: Thu, Oct 19 2000
AU Box Office Total: $ 14,519,900

The Dish is a warm, funny film that captures the innocence of another decade and the thrill of the first lunar landing.
The story begins when the operators of a giant radio telescope propped in a NSW sheep paddock agree to provide back-up support to NASA during the Apollo XI mission. Their role is upgraded before the launch and uptight NASA representative Al Burnett is dispatched to oversee the operation. Things go haywire at the dish when crack Australian scientists - widower Cliff, lovestruck Glenn and pugnacious Mitch - lose contact with the spacecraft and wild weather threatens to interrupt the moonwalk telecast.
The Dish is an ensemble piece and there's not a bad performance in it. The rivalry between chest-beating Australian Mitch (Kevin Harrington) and American import Al provides some of the film's funniest moments and offers a strident defence of Australian culture in the face of NASA's regimental style. Warburton is unexpectedly good in a very straight role and Harrington's laconic humor makes him a scene-stealer.
There are also standout performances from the supporting actors, including Tayler Kane as the rookie security guard and Lenka Kripac as the mayor's rebellious daughter. The Working Dog team bathes the township of Parkes and its giant dish in golden light and good will. They create the same type of instantly recognisable Australian characters and catchphrases that charmed audiences in The Castle, but swing the focus to drama more than humour.
Review by Michelle Edmunds (Taken from the Village Roadshow Web Page).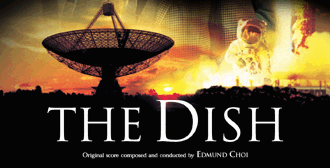 The Australian Trailer
Real Video (1.2 MB) or Quick Time Video (4.4 MB)